THE ESTATE SERIES – WHERE EVEN THE DARKEST MOMENTS HAVE THEIR LIGHTER TIMES
What if you had no one to turn to and nowhere to run?
With the death of her husband and a tragic secret she is desperate to bury, Cath Mason opens her home to young women who need a roof over their head and a sympathetic ear. From victims of domestic violence to drug addicts, no woman is beyond Cath's helping hand. The only problem? She lives on the notorious Mitchell Estate, where temptation and trouble lurk on every corner.
When malicious notes are posted through her door, precious things go missing and a homeless teenager is found murdered, Cath reckons it's just part of daily life on the estate. But when those she cares about most fall prey to violence, she begins to suspect her past mistakes are catching up with her.
Can Cath finally confront her own troubled history before it engulfs not only her but also the women struggling to rebuild their lives?
SOMEWHERE TO HIDE is book one in THE ESTATE Series  – buy here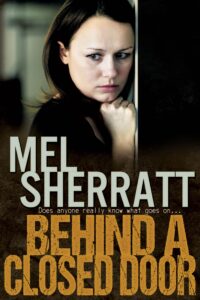 What if you never feel protected when you're at home?
Housing office Josie Mellor loves the community spirit of the notorious Mitchell Estate – when it doesn't involve benefit cheats, aggression, or murder and mayhem, that is. But it isn't exactly a party for some of her tenants… Kelly Winterton thinks Josie is sticking her nose in where it's not wanted. Her partner's just been packed off to prison and she's left worrying how to fend for herself and her young daughter. Charlotte Hatfield has fled from her violent partner. With four children in tow, she lives in fear of him finding her again. Amy Cartwright has learning difficulties. She finds it hard enough looking out for herself and her six-month-old baby without being taken advantage of.
In the midst of it all, Josie has secrets of her own. Trapped in a loveless marriage, she struggles to escape her controlling husband. And as her home life deteriorates, she realises only a thin line separates her from the people she's trying to help. Can Josie save herself and return the estate to relative normality when a spate of burglaries causes havoc on the estate, and deadly violence erupts? Or will both she and her tenants become victims of violence that no one will see?
BEHIND A CLOSED DOOR is book two in THE ESTATE Series – buy here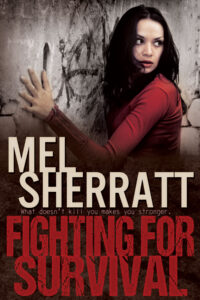 What if your worst enemy is yourself?
When Caren Williams finds herself back on the estate she fought so hard to get away from, little does she realise she'll be living opposite her arch-enemy, Gina Bradley. Gina thinks she and her family rule Stanley Avenue so when Caren starts to become popular, she decides to hit her where it will hurt the most – she wants her husband.
Lonely and depressed, Ruth Millington finds it a constant struggle to get through the dark times. Spiralling out of control, maybe she should let Gina's husband help her out when he comes calling. Twins Rachel and Claire Bradley, took control of the girl gang, the Mitchell Mob, when their leader was sent to a juvenile detention centre for assault. But Stacey Hunter is out now and wants to hold the position of top dog again. No one will back down – let battle commence.
Brawling in the street, fighting on the square and conforming to peer pressure – it all comes down to holding your nerve. But this time not everyone will survive the notorious Stanley Avenue…
FIGHTING FOR SURVIVAL is book 3 in THE ESTATE Series – buy here
Sometimes scars are visible. Sometimes they're hidden deep within.
After years of living as a single parent, all Donna Adams longs for is someone to make her smile, to share hopes and dreams with, to keep her warm at night. 
Home from the army, Lewis is a changed man. Angry and consumed by grief, troubled by nightmares and flashbacks, his mind is worse now than ever. 
Megan Cooper hides her scars for fear of being rejected. Mary Marshall can't always remember how she got hers.
If the past could be erased to make a better future, we'd all want that, wouldn't we? But life is never that easy for the residents of The Mitchell Estate…
WRITTEN IN THE SCARS is the fourth book in THE ESTATE Series – buy here
STANDALONE PSYCHOLOGICAL THRILLERS
Work colleague. Friend. Killer?
A successful businesswoman, Tamara enjoys her champagne lifestyle to the full. At least, that is the front she displays to the world. As well as being lonely, she's running out of money. A promising new member of staff brings the injection of fresh blood needed to win the contract that will turn things around.
Working for Tamara is a perfect ruse for Esther. But, along with fake references and qualifications, she also has a plan for revenge. Sensing Tamara's vulnerability, Esther uses their acquaintance as a way of getting close to someone who hurt her in the past.
Tamara is keeping things secret. Esther has a dark side she is trying to hide. For both of them, lying is a habit. But when mistakes begin to catch up with them, and people start dying, which one will realise she chose the wrong person to trust as a friend?
'Mel Sherratt is on outstanding form with this pacy, page-turning thriller! It had all the thrills and chills, with just the right amount of gritty realism that sets her writing apart from the crowd.'  LJ Ross.
SHE DID IT – buy here
Raw, sexually charged, and darkly claustrophobic, it grabs you by the back of the neck and never lets you go.
Following the death of her husband and unborn child, Charley Belington sells the family home and bravely starts life over again. On moving into a new flat, she is befriended by her landlady, Ella, who seems like the perfect friend and confidante.
But, unbeknown to Charley, Ella is fighting her own dark and dirty demons as the fallout from a horrific childhood sends her spiralling down into madness—and unspeakable obsessions.
As Ella's mind splinters, her increasingly bizarre attentions make Charley uneasy. But with every step Charley tries to take to distance herself, Ella moves in a tightening lockstep with her, closer and closer and closer…
'Ella is a terrifying villain–outwardly ordinary and utterly unhinged. Watching Over You is the book you'll wish you could read from behind a cushion.' Elizabeth Haynes.
WATCHING OVER YOU – buy here
DS GRACE ALLENDALE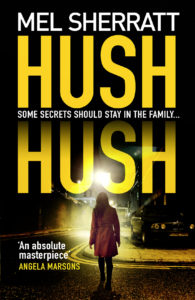 'On a thriller cocktail list, Hush Hush would be a Bloody Mary with a perfect twist…' FIONA BARTON
A killer is on the loose, attacking people in places they feel most safe: their workplaces, their homes. It's up to DS Grace Allendale to stop the murders, and prove herself to her new team.
All clues lead to local crime family the Steeles, but that's where things get complicated. Because the Steeles aren't just any family, they're Grace's family. Two brothers and two sisters, connected by the violent father only Grace and her mother escaped.
To catch the killer, Grace will have to choose between her team and her blood. But who do you trust, when both sides are out to get you?
An unforgettable thriller that fans of MARTINA COLE and CARA HUNTER won't be able to put down.
This is the first book in the DS Grace Allendale Series, buy here
'A terrific read.' MARTINA COLE
TICK… In the city of Stoke, a teenage girl is murdered in the middle of the day, her lifeless body abandoned in a field behind her school.
TOCK… Two days later, a young mother is abducted. She's discovered strangled and dumped in a local park.
TIME'S UP… DS Grace Allendale and her team are brought in to investigate, but with a bold killer, no leads and nothing to connect the victims, the case seems hopeless. It's only when a third woman is targeted that a sinister pattern emerges. A dangerous mind is behind these attacks, and Grace realises that the clock is ticking…
Can they catch the killer before another young woman dies?
The #1 bestseller returns with a breathtaking thriller that will have you on the edge of your seat.
This is the second book in the DS Grace Allendale Series, buy here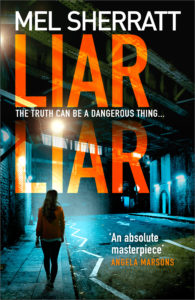 'Twists and turns and delivers a satisfying shot of tension.' RACHEL ABBOTT
The truth can be a dangerous thing…
When a young boy falls from a balcony in a block of flats, DS Grace Allendale witnesses the shocking aftermath of the tragic event. But strangely, no one will admit to seeing anything – and the parents will only tell the police that it was an accident.
Determined to sort the truth from the lies, Grace is thrown into a case that takes her to the darkest corners of the criminal world – and strikes closer to home than she could have ever imagined…
A gripping and pacey thriller that will keep you on the edge of your seat from the moment you turn the first page.
This is the third book in the DS Grace Allendale Series, preorder here
THE DS ALLIE SHENTON TRILOGY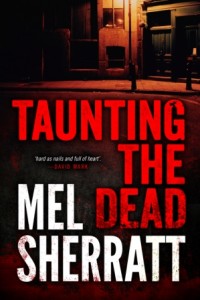 How far would you go to protect the ones you love? And how much further would you go to betray them?
Nine out of ten murders are committed by someone the victim knows. So when Steph Ryder has her head bashed in within earshot of her family and friends, D.S. Allie Shenton begins her investigation close to home. Soon the lies, backtracking, and secrets multiply as each of the suspects tries to cover up their actions on that fateful night. Before long, Allie homes in on Steph's ambitious and powerful husband, Terry. Convinced he's hiding something, she interviews him again and again—only to find that she is falling, despite herself, for his smooth charms.
As the trail grows hotter, along with Allie's feelings, the web of deceit pulls tighter and more bodies begin to pile up. Allie must race against time to uncover the shocking truth before she becomes the killer's next victim.
Taunting the Dead is a dark, gritty, sexually charged thriller that will leave you gasping for breath.
'Sherratt is a unique voice in detective fiction.' —Mail on Sunday.
This is the first book in the DS Allie Shenton trilogy – buy here
A flesh-creeping tale of a child's game with a terrifying, grown-up twist.
A man's body is found on a canal towpath. In his pocket, a magnetic letter in the shape of an E. Days later, a second victim is found, this time with the letter V tucked into her clothing. As the body count rises, the eerie, childlike clues point to a pattern that sends DS Allie Shenton and her colleagues into full alert.
The race is on. Allie and the team must work quickly to determine where the killer will strike next. The rules are simple but deadly—to catch the killer, they must follow the leader.
'Slick debut from a writer to watch out for.'  Mandasue Heller.
'It's the reading equivalent of riding a rollercoaster with no brakes. Once you begin you'll be on a high octane journey until the final surprising page.' Kate Rhodes.
This is the second book in the DS Allie Shenton trilogy – buy here
 Who lies and who dies?
When one of the notorious Johnson brothers is murdered and a bag of money goes missing, a deadly game of cat and mouse is set in motion.
DS Allie Shenton and her team are called in to catch the killer, but the suspects are double-crossing each other and Allie has little time to untangle the web of lies.
As she delves deeper into the case, things take a personal turn when Allie realises she is being stalked by the very same person who attacked her sister seventeen years ago and left her for dead.
Set over forty-eight tension-filled hours, Only the Brave is the latest gut-churning case for DS Allie Shenton.
'Now and again, a character comes along that stays in your head long after the book has finished. Allie Shenton is that character. Mel Sherratt combines taut storytelling with excellent characterisation, resulting in a book I could not put down.' —Angela Marsons.
'Hard as nails and full of heart.' —David Mark.
This is the final book in the DS Allie Shenton trilogy – buy here
DS EDEN BERRISFORD
Six months after the stabbing of fifteen-year-old Deanna Barker, someone is coming after the teenagers of Stockleigh, as a spate of vicious assaults rocks this small community. Revenge for Deanna? Or something more?
Detective Eden Berrisford is locked into a race against time to catch the twisted individual behind the attacks – but when her own niece, Jess Mountford, goes missing, the case gets personal.
With the kidnapper threatening Jess' life, can Eden bring back her niece to safety?
Or will the people of Stockleigh be forced to mourn another daughter…?
'Mel's vivid imagination really brings her characters to life.' Kerry Wilkinson.
THE GIRLS NEXT DOOR – buy here
She got into bed but sleep didn't come easily. Every creak in the house made her alert. She was waiting for him to come and get her.
The small city of Stockleigh is in shock as three women are brutally attacked within days of each other. Are they random acts of violence or is there a link between the victims? For Detective Eden Berrisford, it's her most chilling case yet.
The investigation leads Eden to cross paths with Carla, a woman trying to rebuild her life after her marriage to a cruel and abusive man ended in unimaginable tragedy. Her husband Ryan was imprisoned for his crimes but, now he's out and coming for her.
As Eden starts to close in on the attacker, she also puts herself in grave danger. Can she stop him before he strikes again? And can Carla, terrified for her life, save herself – before the past wreaks a terrible revenge?
'A heart-pounding, breath holding, twisty-turny read. I highly recommend this book.' Caroline Mitchell.
DON'T LOOK BEHIND YOU – buy here