I had such a great time at Theakston Old Peculiar Crime Writing Festival this year but, as I had edits for FOLLOW THE LEADER, my new book out next year with Thomas & Mercer, waiting on my return, work had to be done before I could get to it. So, this is a very belated post, but I couldn't let this festival go past without writing about it.
This is my fourth year in a row that I have been to the festival and for me now, Harrogate is becoming a home from home. I liken the festival to going to a school reunion every year, but with people you really want to catch up with. This year, the festival started for me when I met up with a group of regulars by chance on the platform at Leeds and I shared a train with them to Harrogate, having a great laugh along the way. For anyone who catches the Leeds to Harrogate train, we were joking about being in the tunnel for so long, that we wondered if we might come out in Paris… or Narnia…
So in true blog style, here are my top ten moments from #TOPCrime2014:
1. It was my first time attending the festival as a panel member. My panel was called The Good Old Days. Chaired by the fabulous Martyn Waites, it included James Oswald, Mark Edwards and Mari Hannah. Between us, we had some incredible stories of our ups and downs during our journeys to publication.  It might have taken us longer than some to get to where we are today, but boy, did we work hard between us and we never gave up! (and Mari, I salute you for your salute!) I was so proud to be sitting on that panel. Not least because…
2. I had no hiccups! For years now, I've suffered from hiccups – I mentioned it in my last post pre-festival. I've now found out they are stress-induced and have had some tablets from the doctor. This weekend was my test and the tablets worked. Not a hiccup at all. I can't tell you what a relief it was.
But I think I have them to thank for my panel talk too, as I had no nerves so was able to relax and enjoy it rather than over think it. That was until half an hour before we were due to go on when Mark Edwards said 'have you seen the queue outside' and we all began to sweat a little more!
3. Seeing my books at another festival. This is the third one I've done this year and to see my books on display and then to sign them for people after the panels has been a dream come true. As a result of me being at Stoke Hot Air Literary festival, TAUNTING THE DEAD and WATCHING OVER YOU are now stocked in my local independent book store, Webberleys, and also Waterstones, Hanley. Pretty soon they will be available in Waterstones regionally too. So, going to Harrogate and seeing PILES of my books and then they were all sold out – well, it just blew me away.
4. The tents were a great addition last year but this year they were spectacular. I spent most of my time in the large white tent – okay, by the bar in the tent – and publishers used them to their advantage to host book events. It lashed down with rain on Saturday but who cared as we were all under cover, playing games with Dead Good Books. I came away with lots of goodies and also a signed copy of P.D. Viner's new book, Summer of Ghosts (which has the most spectacular of covers, not envious at all, Phil!) The tent also came into its own every evening too – we all sat around picnic benches and chatted into the night. Perfect.
5.  Having dinner with my publishing team and other Thomas & Mercer authors attending the festival. It's at these kind of events when everyone is chilled that you get to know people better. I had a great time with my team and they looked after me so well. I also went to lunch with my agent, Madeleine Milburn, to celebrate the past year and also raise a glass to getting another two book deal with Amazon Publishing. For anyone who doesn't know, I'm making TAUNTING THE DEAD into a trilogy – FOLLOW THE LEADER and ONLY THE BRAVE will both be coming out next year. And who knows, maybe Detective Sergeant Allie Shenton might appear in more books after that. I also met up with the copy editor who looks after my self-published books – finding out actually who doesn't she do copy editing for! She is in great demand with the top publishing houses too.
You see, everyone goes to this crime festival. For newbies, it is the perfect place for networking.
6. Spending time with friends. There is a group of us that meet every Harrogate, as well as other times during the year, and although one of us was missing (David Jackson!) we had a ball catching up. Some of us go to Betty's for tea on arrival and we always get one one lunch together (I just love that special time and the Mosie cake). As well, it's the time to catch up with everyone. This year, readers introduced themselves to me, as well as new followers on social media. Chatting books – what better way to wile away the hours.
Spending time with my crime family is just the best time to realise what I am now a part of. I hope it  never disappears.
7. As 2014 is the year of the selfie, and as the panel I was taking part in was the first panel of the festival, I thought it would be great to take a selfie of us all on the stage. I mentioned it to the other panel members, who I thought might think 'oh no,' but the response was 'yes, let's do it.' So we did. We even turned to get the audience in. Unfortunately, the selfie didn't come out well. But now, surely, we must start a trend for a selfie of a selfie! Thanks to all the members of the audience who sent me photos and to Vicky Newman whose photos I used.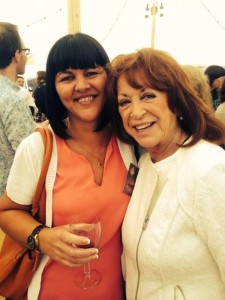 8. Lynda la Plante, as lots of people have said, was absolutely fantastic. I had the pleasure of being introduced to her the night before by her PR team and getting a snap. But the interview that she gave was just brilliant. I have never laughed so much so early in the morning. She had the crowd in hysterics with her acting anecdotes (shut it!) and antics. Then just as quickly, my eyes were welling up when she spoke about victims of crime and how, sadly, the families were left to fend for themselves. Making reference to The Moors Murderers, and the victims' families brought goosebumps to my arms and more tears. And that's why I am so proud to be likened to Lynda la Plante. She is one of my writing idols – I feel so fortunate to have met her. And she went home with a copy of TAUNTING THE DEAD! 
9. Last but not least, I met and got a selfie with Olivia Colman! I have written about her many times on my blog. I think she is an amazing actress and has appeared in so many gritty roles that I often think of her when I am writing characters in my books. So as I could go up to the green room this year, I decided to chance it and hang around to see if I could see her. I went up about twenty minutes before the Broadchurch panel was due to begin.
I met Erin Kelly (who I had known from Twitter for a while but had never met in person) and also Chris Chibnall, who created the series. I was chatting away to him (what a nice guy) and explaining to him how my agent had pitched to me when she offered to represent me (I'm going to do a full blog post about the rest of that soon.)
And then in came Olivia and I admit my heart skipped a beat and my mouth dropped open. She was with Jodie Whittaker who plays Danny Latimer's mum in the series and they were both introduced to me! Now, I have my own silly little story here as I carried around a copy of TAUNTING THE DEAD to give to Olivia all that day. Yes, yes, in the back of my mind I thought I would never dare give it to her – and why would she want a copy anyway? But this woman is one of the strong women that I refer to all the time. I had to be strong too, right?
When I saw her and spoke to her and had chance to tell her how my agent had pitched me, (through watching the film Tyrannosaur which she appeared in, and wanting to find that type of gritty writer ever since) I managed to pluck up the courage to give her my book. I then asked for a photo and she said 'shall we do a selfie. I've just learned how to do them.'
So I have a selfie with Olivia Colman. I can't put it online (I always ask permission to share on Twitter and she said she preferred it not to be) but that makes it all the more special for me. It has pride of place on my desk now.  Thank you, Olivia, for making my day, my week, my year!
10. I've already booked my hotel for next year…
This year's festival was chaired by Steve Mosby and I have to say, despite him always saying every time someone congratulated him that was is a team effort, his team did an amazing job this year. There are too many people to thank individually – I hope I managed that in my many emails – but #TOPCrime2014 was just perfect. The buzz this year was epic. Well done, Steve!
#TOPCrime 2014 Harrogate Highlights