It's been a crazy week in the Sherratt household. After the launch of SHE DID IT last week, which went straight into the top 100 on Kindle UK, I had a few days to catch up with things before having some well needed time off. Yet I found myself with three evening invitations that I didn't want to miss any of, even though, ahem, at my age, my stamina is not as good as it was, and my heels were very high!
The first two events were in London. For years, I struggled with rejection while working full-time and writing every spare minute I had. Time after time, year after year – sometimes getting so close but falling at the last hurdle. It was soul-destroying but each rejection I had made me more determined than ever. One of the women who inspired me to keep going was Martina Cole, who I had the privilege of meeting several times.
It took a while but I finally reached my goal. Yet if anyone had told me I would be invited to Martina Cole's 25 years in publishing and book launch party, by the woman herself, I wouldn't have believed you. So there I was on Tuesday evening dancing with Martina, with Cain Dingle on the decks! An amazing evening I was proud to be invited to! Thanks for sharing it with me, fellow writers and friends, Caroline Mitchell and Casey Kelleher.
During the following day, I managed to fit in a quick coffee with my agent and lunch with my editorial team. Then it was on to another publishing party to celebrate my publisher's 10th anniversary. Harper Collins Avon is my new home and I am so thrilled to be on board with them.
During those ten years, Avon have sold a staggering 27,533,864 books, have had lots of Sunday Times Bestsellers and even three authors who have sold over a million copies each. For a small team, that is some achievement. Sadly by this time in my trip, I was shattered and barely able to speak because of all the shouting I'd done to be heard, but it was a wonderful evening and fabulous venue with friends and colleagues. 
Finally, the third night was spent in my hometown of Stoke-on-Trent. Every year, my local newspaper, The Sentinel, hosts Our Heroes, our version of Pride of Britain. This year, I was there to give out an award. However, the tables were turned, as when I went up to the stage, I had actually won an award! I was presented with The Sentinel Editor's Award. It was such a proud and humbling moment. To be honoured in my city was the icing on the cake.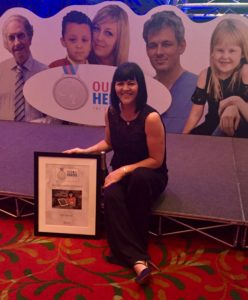 My motto has always been to keep on keeping on. If anyone feels that dreams don't come true, they do. Yes, there have been a lot of highs and lows to get to this position but it's often about the journey and how you change, or don't change, when on it that affects the outcome. I didn't think I was driven until I looked back and saw that every rejection must have made me more determined.
And now, with one million books sold – I still can't believe that – I feel totally blessed. In 2011, I started off with no book sales but I pressed a button on Kindle Direct Publishing and published a book called Taunting the Dead that changed my life completely.  
The surreal life of an author in three nights out