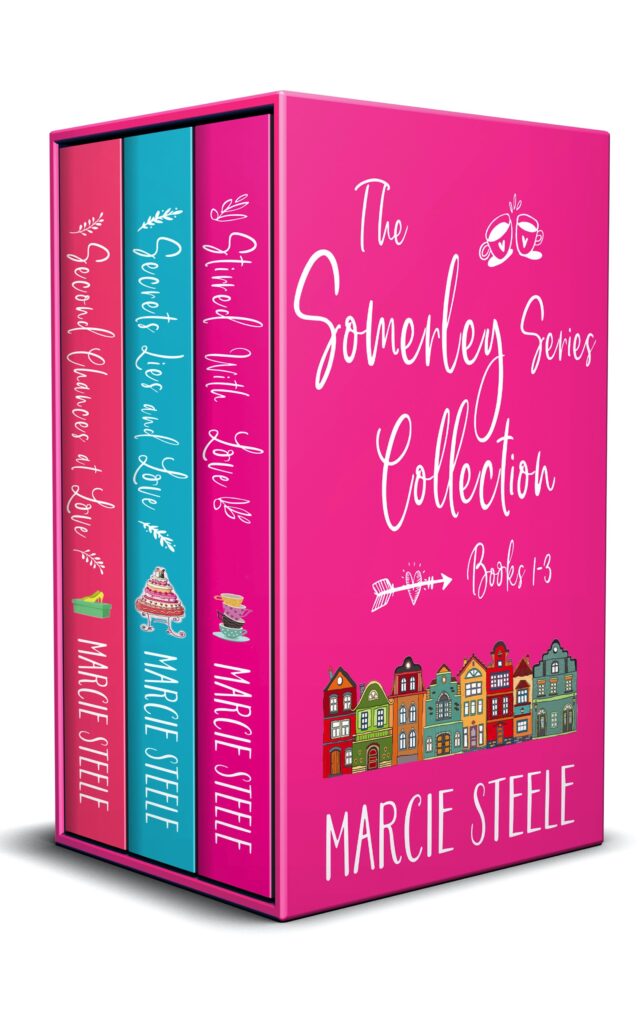 The first three books in The Somerley Series are now available in a box set. It's free if you're a member of Kindle Unlimited and £4.99 for the set if you'd like to buy it.
All three are standalone novels, set in the market town of Somerley.
The box set contains:
STIRRED WITH LOVE
After the end of her marriage, thirty-something Kate is trying hard to mend her broken heart.
Chloe, a young woman with the world at her feet, is struggling to know what to do with her life.
Still grieving after the loss of her beloved husband, Lily is determined to do something with the time she has left.
As Lily embarks on a new venture in the picturesque town of Somerley, the three women come together to open The Coffee Stop, the most charming café for miles around. But opening a coffee shop is never as simple as it seems, especially when you add local neighbouring competition, secrets and heartbreak to the mix.
When tragedy strikes, can the three women pull together to make the new business fly, or will Lily's last chance disappear down the drain along with yesterday's coffee grinds?
SECRETS, LIES AND LOVE
Sophie loves running her market stall with her friend Beth by her side. They're right at the heart of the Somerley community – and always one step ahead on local gossip. But Sophie's marriage is in a bit of a rut, and handsome stranger Damien has her wondering if the grass might be greener…
Beth is the life and soul of every party, but she's hiding a broken heart, and worries about her beautiful but secretive daughter Charley. All she wants is someone to love – but could Mr Right be nearer than she thinks?
Just when Sophie and Beth need each other most, they suddenly have reason to wonder whether they ever really knew each other at all. Can the two best friends put the past behind them, and help each other find love and happiness again?
Please note – this book was previously published as The Little Market Stall of Hope and Heartbreak, so do check to see if you have already downloaded it.
SECOND CHANCES AT LOVE
All Riley wants is to meet someone who makes her happy. But attracting the right kind of man is not easy, and with her heart still hurting from her last break-up, she believes she'll never find love again.
Nearly a year ago Sadie's whole world was shattered when her husband died. She has struggled to keep herself together for the sake of their young daughter, but with the anniversary of his death approaching, Sadie finds herself overwhelmed by grief.
Sadie and Riley work at Chandler's Shoes in the market town of Somerley. But when the shop is threatened with closure, the friends are confronted with the loss of not only their jobs, but also their support network – the glue that binds them when they are close to breaking.
As they put together a plan to save their beloved shop, Sadie realises that she might be learning to live again. Could it be that new beginnings are just around the corner? The campaign also finds Riley unexpectedly crossing paths with charming photographer, Ethan. Maybe her second chance at love is right under her feet…
Please note – this book was first published as The Second Chance Shoe Shop, so do check to see if you have already downloaded it.