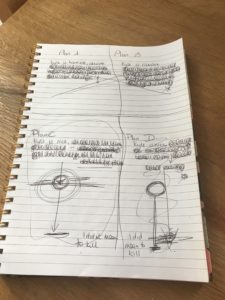 January 21 2019
What have I been up to this week?
I know it's a new year and I always start writing a new book in January, but I've had quite a productive week even if I do say so myself.
I decided to challenge myself to work smarter this year. It's easy to go on social media and down a rabbit hole, wasting time I should be working. For me, it's also really easy to get comparisonitis, seeing other authors doing better than me and getting low from that too.  I admit, I've had a lot of success but it's still something I wrestle with. The inferiority complex is a beast.
Last week, I mentioned that I wanted to get a quick draft down of 50,000 words of project A during January. I'm kindof on target because, I don't know how or why but with every book I write, I learn a little more and writing the next draft is always a little different. This time I got to 22,000 words and I literally lost the plot. I couldn't decide whether I wanted one of my main characters to be nice or nasty and was writing it both ways…
I'm trying not to work on Sundays now but yesterday found me, notebook in hand, rereading the work I'd done so I could regroup to continue with it this week. I ended up writing four plans – A, B, C and D – and then I chatted them through with my fella.
He is awesome at keeping things real and also giving me a male perspective. I can't tell you how many things he will say, or twists he offers as we chat, that get into the final books.
I'm not sure who is more devious out of the two of us. Considering he doesn't read crime thrillers, he has a great analytical mind. Or a murderous one… there's an image of my notebook above. I promise I wasn't playing Hangman.
Project B is coming along nicely too. I'm nearly finished with the second draft of that and aim to be able to share details of it around Easter time. I'm very excited.
I've also rewatched Manhunt over the weekend. I absolutely loved this program – it's why I write about detective sergeants rather than DI's or DCI's. I like to be in the thick of things in the community. It's the little details I enjoy working out that make or break a case wide open.
Manhunt was exceptional. Based on a true, and extremely sad, case, it showed how tenacity and hard work paid off (I hope that doesn't sound disrespectful – I have huge respect for any serving police officer.) Grace Allendale in HUSH HUSH reminded me of the DS in Manhunt too. And it's vastly different from Luther. 
Finally, it still gives me a glow when I see HUSH HUSH out in the wild. I was shopping at my local Tesco and spotted my book next to Clare Mackintosh's LET ME LIE on the shelf. It's a dream come true to get my books out there, and a real honour to know Clare too.
She is a remarkable author, an exceptionally nice person and one of the savviest authors I have met. I have a lot of time for her, and love how well she is doing. I can't wait to read her new book, out in summer.
What am I reading?
While I am drafting and heavily immersed in my own plots. I can't read crime novels. So at the moment, I am reading two books, THE LIDO, Libby Page and ON THE LINE, Alice Vinten.  One is fiction, the other non-fiction.
THE LIDO is so lyrical that I can let my mind go. ON THE LINE is a diary of a Met police officer, enthralling as well as compelling. I'm halfway through each at the moment, flitting from one to the other.
One step forwards, five steps back – diary of a Stoke author