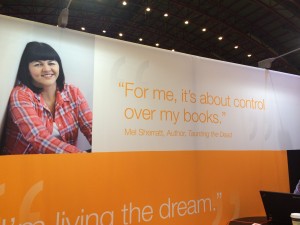 Self-publishing TAUNTING THE DEAD was the scariest thing I have ever done but, ultimately, it turned out to be the best. Since it went out in December 2011, I've self-published three other books in a series and have a book deal with Amazon Publishing which published WATCHING OVER YOU earlier this year.
But that's not really the highlight of everything that has happened. The highlight is that I have met so many fantastic people along the journey. Editors who turned me down originally who have even then been incredibly supportive; authors – published and aspiring who have shared things with me and supported me and vice versa; people in the publishing business that have truly inspired me; more importantly, readers have found my books.
So imagine the girl from Stoke-on-Trent, who left high school and never went to college until she attended evening classes, walking into London Book Fair to be faced with myself on the wall!
Again, I was invited to speak at panels at the Author HQ sponsored by Amazon KDP. I met lots of fellow self-published authors and also people who I knew from Twitter came to say hello. The atmosphere over by the Author HQ was incredible and I came away so proud to be a part of it.
I also met several American über bestselling authors who not only inspired me but were warm and welcoming and full of advice. I went into the fair saying 'Ohmigod, there's Hugh Howey' to watching videos on his phone with him and hanging out with them all. I chatted to Bella Andre and Jasinda Wilder who congratulated ME on my success!  I learned SO much by talking to other people, and it was great to just hang around and put faces to names. There were lots of hellos and hugs and I generally had a ball.
Have I mentioned the word inspired enough yet? Or maybe the word is energised, as I felt totally buzzing as I left London on the train back to Stoke.
During the past two years of industry changes, I have changed too. I still think the plug will be pulled every morning that I wake up – I still pinch myself to think that all this has happened to me. And yes, the naysayers amongst us (even me) know it won't last forever, so I'm going to enjoy it while it lasts. But surely this gives hope to lots of other people to follow their heart and their dreams, whether that be in publishing or life in general.
Maybe anything is possible if you want it, and work hard at it.
I make it no secret that Amazon changed my life