January 7th 2019
Happy New Year! 
There have been lots of great things happening in the background over the past few weeks – most of which I can't talk about until things are made more public. Sad, and quite annoying when you want to shout your news from the rooftops, I know but that's the nature of publishing. So until I can share…
One thing that did happen was I was name-checked in The New York Times by one of my writing idols. Ian Rankin was asked what books were on his bedside table and the last one he read was HUSH HUSH. I was thrilled to learn this – Ian is such a supportive writer, and a great guy to boot. It's not often I can say that someone has taken me to bed, but this was amazing!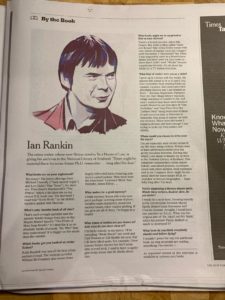 I was also reviewed in The Times, by Marcel Berlin.  'Allendale, intelligent and sensitive, is a welcome addition to crime fiction.'
And my publisher, HarperCollins, pledged support for literary projects in my hometown of Stoke-on-Trent, where I get to be an ambassador for The Literary Trust! During the next three years, I will be visiting schools and colleges to hopefully inspire some young people to reach for the stars.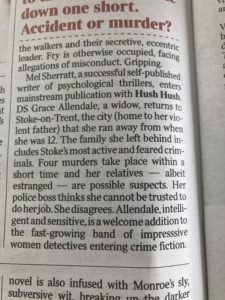 It's a sad fact that I often get ridiculed for the way I write. I get emails from people saying that my writing is juvenile, and no wonder I couldn't get a traditional deal for so long because my writing is dire (despite selling half a million self-published books before working with publishers.) It's particularly galling when it's written on an Amazon review. Not everyone can like the same thing, but most people can articulate this in a much friendlier manner than some, shall I say.  So it's the quotes above, and working with The Literary Trust, plus the emails from readers who enjoy my books, that make me smile.
I'm often asked about what I'm up to on my writing journey, what I'm working on, what's out next and when, what's happening events wise etc. So starting today, every week I'm going to add a diary post – or fortnightly if I haven't been up to much – where you can catch up with what I've been up to, what I've been working on, reading, visiting etc.
So… without further ado, what did I do last week? Apart from being ill over the new year (New Year's Eve to be precise) with a sickness bug that literally floored me for twenty-four hours (I was crawling on the bathroom floor at one point – no alcohol was consumed!) I've been rereading the paper versions of the final proofs for my next DS Grace Allendale, which is out on 4 April this year. This is always a mixture of scary and exciting.
Scary in the sense that it's the last time I can change anything (and really it's all about picking up typos and amending tiny errors. Most of the changes hav
e to be done at copy-edit stage.
It's also exciting because often I read a scene as a reader and think, wow, did I really write that? Well done, Sherratt.
Last week was also about planning. I've planned ahead for the next six months so far. Lots to do, lots of exciting things coming up. If I didn't plan, I'd never fit it all in as everything becomes too overwhelming. But if I break it down into months, weeks and then days, it's far more doable.
And while this article I wrote in October says why I moved over to the dark side… I am actually working on a side project that I'll be sure to tell you all about over the coming weeks.
Finally, books on offer. As well as HUSH HUSH at 99p on Kindle at the moment, my first psychological thriller, WATCHING OVER YOU, is on offer in the Kindle UK Monthly sale for 99p (usually £3.99) and the first in The Estate Series, SOMEWHERE TO HIDE, is also at 99p. 
Diary of a Stoke author – week one