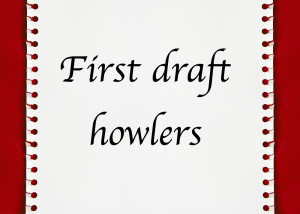 After handing in edits for FOLLOW THE LEADER, because I have two books coming out next year with Thomas & Mercer, I'm back to working on ONLY THE BRAVE again. I wrote a rough short draft of 60,000 words in June/July and have been letting it rest until now. This is when I do my first read back. As always, it is messy. There are lots of holes, not much description, plots to go back to, twists to work out and no sense of place whatsoever. But it is full of possibilities.
I am envious of writers who complete one draft and edit as they work, so that once they get to the end the script is good to go. For me, I have to work on a manuscript three times before I feel it's okay to show anyone. Even though I work to a rough beginning, middle and end, the first draft is where I let my mind wander. The second draft is where I take the ideas from the first, plus others I've thought of as I've read through it, and create a book. The third is honing the words, tightening etc. enough so that it is ready to seek feedback. Sometimes I even do a fourth now to tighten up even more.
I often find some really funny first draft howlers, so in no particular order…
Even though he knew where his bread was buttered, he valued his legs.
He walked quickly along by the side of Harrison House, on the grass so that his shoes didn't make any sound in the still of the night.
He paled under his recent tan.
She ran like Forrest Gump, until she could run no more, until she stopped for breath.
In frustration, she went into every room in the flat – which didn't take long as there wasn't enough room to swing a cat.
What, that super cold young dude who was in the papers about a month ago?
She couldn't bare the thought of him with another woman.
Everyone knew he ran it, did a good job of keeping out the riff raft and the dealers that he didn't want in there.
She still owed her for when she twitted Melissa Dixon for her.
She kept it together before bursting into theirs again.
Sometimes denial is the best thing until it happens.
People who go on The Jeremy Kyle Show wouldn't have the house to steal large amounts of money. (I think this should be nouse instead of house, but even still…)
So, I'm asking you again, have you hared something?
She could smell the fear on his breath, holding her nose at the stench.
Nut where did he go?
The Grange brothers were all devastatingly ugly.
She brought forward her elbow and with as much force as she could muster, she pushed it backwards. It landed full in his chest, pushing him backwards. At the top of the stairs, he lost his balance, falling backwards. Arms flailing as he tried to stay upright, he dropped heavily on the steps and somersaulted backwards, landing with a thud against the wall. (really – how many times can he fall backwards…)
And my favourite one?
This had better be good, Nicole, or else I'm going to string you up by your false hair and hang you from the first floor window.
 Only one thing left to say… taxi for Sherratt…