I sat down to write this post to talk about the London Book Fair 2016. I was going to mention the fantastic panels that went on for three days, the atmosphere in and around the Author HQ, the people I spoke to who inspired me and the people I met who I'm hoping to work with this year after chatting to them. But, this is the sixth year that I have attended The London Book Fair so I thought I'd share a little of my journey.
Way back in 2011, I was walking around as a lost soul. There was nothing for an aspiring author to do but I was meeting friends and my agent there and having a general nosy because it was the world I wanted to be in, having tried to get a traditional deal for over twelve years. I had no intentions of self-publishing, and my novel, Taunting the Dead, went out on submission, and was rejected, around October of that same year. During that summer, a writer friend of mine, Talli Roland, said you should get yourself on Kindle. Self-publishing was frowned upon way more than it is now back in 2011, so I decided to drag a book out that I had written years earlier, get it edited, get a cover designed (by Talli) and I uploaded my first book under the name of Marcie Steele. I thought if that flops, I have nothing to lose, and my 'reputation' as Mel (which was a book blogger only) wouldn't be tarnished, so I could then write another book, which would be my sixth, to try to see if I could get a traditional deal with that one. 
However, Marcie Steele just took off and in several weeks, Stirred with Love sold over 50,000 copies. This allowed me to make the decision to self-publish Taunting the Dead under my own name. And now, over three quarter of a million sales later, boy am I glad I did. 
Since that first London Book Fair, I have been every year and for the past four years, I've been the guest of Amazon Kindle Direct Publishing (KDP.) I take part in panels with other successful self-published authors, who sales far outweigh mine, and I speak to aspiring authors who are maybe thinking about self-publishing, as well as offer advice to authors who have self-published and want hints and tips. Taking part at the fair is way out of my comfort zone but it is something that fills me with so much inspiration as I am around so many creative people that it's a must for me to go. I also consider this my time to pay back. The indie world, as I call it, are a very friendly crowd. We share and offer best practice, we work with each other all the time and the feeling of camaraderie near to the Author HQ, that was set up for the panels, and around the stands was electric.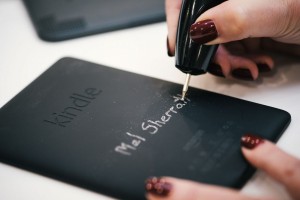 One of the questions I've been asking myself lately is where do I see myself in five years time. I now have eight crime novels, published and a deal for a further two. I also have a publisher for Marcie Steele, and her third book, The Second Chance Shoe Shop, is sitting pretty at #30 in the UK kindle chart and #1450 in the US. So that will be thirteen books. I've written in every genre that I want to and although I have lots of ideas (way too many to act upon) I'm wondering what my goal is now. But then I think back to five years ago before all this began and what my goal would have been then. It would be to be where I am now – but I don't think I ever imagined I would get there. 
So that's what I came away from the fair thinking this year. If I can do it starting with one book, then anyone can do it. I hear excuse after excuse from people that they don't want to market a book (you have to, get out of your comfort zone and learn to sell it), that Facebook Ads don't work (they do – if you put the hours in to tweak them and test them and learn who your market is and sell to them) and that they just want to write a book and for the world to find it. It isn't as simple as that, but if you're prepared to roll your sleeves up and make some mistakes along the way while you are learning, you might find it a lot of fun. Yes, admittedly, I work long days and into the evenings and most weekends, but that's because I love it. At London Book Fair, I get to share what I do with other authors. At home, I get to chat to my readers on social media. It's hard work at times to fit everything in, and like any job it has its ups and downs. What an aspiring author needs to figure out is what their definition of success is and work towards that, whether that is to sell one, one hundred, or one thousand and beyond books. It has to be your goal. 
This year at London Book Fair 2016, I took part in two panels, my photograph appeared in The Independent and The Bookseller, I engraved my name on a kindle (yes, really), I was filmed by Amazon KDP and Kobo Writing Life and interviewed for the Self Publishing Formula podcast with Rachel Abbott. I met lots of fantastic people, some of who will be working with me in and on my business over the next year to help it grow. It was then that I realised that as someone from a small city, with no formal education past high school, and the odd A level (with a grade I can't be proud of) at night school, that I haven't done too bad for myself… 
Of course, I'll never think I'm doing well because I think self-doubt is a requisite for an author. Well, it is for me! Seriously, I'd just like to thank everyone at the book fair for making me feel so welcome, whether that be part of my wide team of professionals I work with to get my books published, to the authors who offered me advice, and to the aspiring authors I offered advice to. I'm sure some people will read this post and thing, well this is bragging in its largest form. I hope it doesn't come across as such. I want it to inspire people to think  'where do you want to be in five years time,' and taking one step at a time, it can be possible. 
One author came to me and said that he wanted to be sitting on that panel doing what I do in three year's time. I loved his attitude (although he's not having my seat!) If you aim high, you will get there. Yes, there is an element of luck about this business, but that luck has to be coupled with hard work. It's a job I'm proud to do, it's a business I taught myself to run and even now, after years doing it, I still feel that I'm just starting out. I'm still learning. More importantly, I'm still enjoying what I do, and I still find it exciting.   
London Book Fair 2017, here I come.
What I learned at London Book Fair 2016